One of the best things I started doing several years ago is conducting interviews with all prospective students before accepting them into my studio. When people contact me with an interest in studying piano with me, I always refer them first to my website. I tell them to read over all my policies and if they are still interested in lessons to contact me again, either by e-mail or phone, so that we can set up an interview.
The interview gives me a chance to get to know the student and parents better and helps me assess their musical aptitude and/or current abilities and determine what books might be most appropriate for them. I also have the parents fill out a Parent Questionnaire for each student and this has helped immensely. I have found that the interview process helps me communicate the expectations I have for my students and also gives me a chance to understand the goals parents have for their children in the area of music.
Here are free downloadable files of the questionnaire forms I've developed to use in my interviews. (The images are of my own personal forms; the downloadable forms are blank at the top so that you can insert your own studio name and/or logo.)
Interview and Evaluation Forms – Beginning Student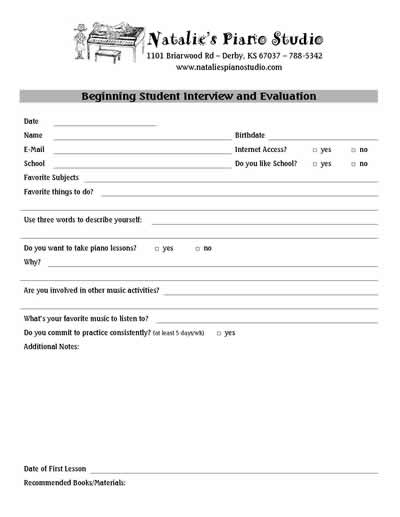 Interview and Evaluation Forms – Transfer Student

This Parent Questionnaire (also blank so that you can customize it for your studio) is included in each of the above files.