This morning we launched off first thing with a showcase presented by Randall and Nancy Faber. They began with an overview of the changes in the 2nd edition of the Piano Adventures Level 1 books (look for the words "2nd Edition" printed on the upper left hand corner of the books). We worked through the book page-by-page with them pointing out changes and explaining some of the pedagogical ideas behind the changes.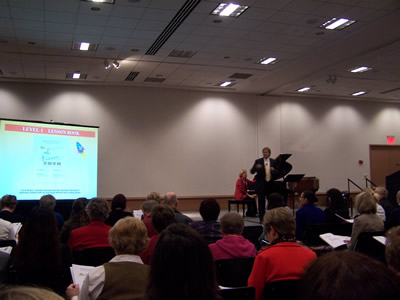 According to linguistics studies, we have to hear a word over 30 times before it becomes a part of our vocabulary. It's no surprise, then, that students have difficulty learning and remembering note names! The Faber's recommend using lots of different approaches to help students retain this information.
Students learn the most by imitation. If the teacher models the sounds and the gestures, the students will follow.
Interspersed with the presentation with numerous video clips of Nancy teaching students. It's always so inspiring to see her working with the students! A couple weeks ago, I mentioned that I'm not a huge fan of the emphasis on passing songs and using stickers to indicate that a song is completed. Nancy's approach helps crystallize why I feel this way – it's not just about learning all the right notes and rhythm and then moving on; it's about making music, exploring different ideas, creating beautiful sounds at the piano.
Visit the Piano Adventures website for a complete overview of the changes in the 2nd Edition. I was surprised and pleased at the numerous changes and additions that have been made. Here's a quick rundown of the general revisions:
Enhanced Reading Strategies – more emphasis on memorizing the line and space notes on each staff.
New Progress Chart – rather than a table of contents page, this helps teachers plan lessons and track student progress more effectively.
Integration Between Lesson and Theory Books – the Faber's briefly went through the theory books to point out some changes
New Pieces/New Musical Twists – it seems like there is a better reinforcement of concepts, particularly including several pieces that highlight the various intervals as they are learned.
Improvisation Activities – so fun! Lots of creative ideas that students can explore their pieces and musical sounds beyond what's printed on the page.
Challenge Section – an introduction to several scales. The Faber's add that students should be encouraged to go back and transpose their favorite pieces to other keys.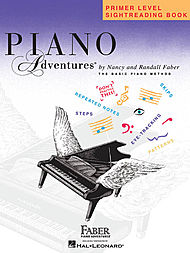 I am thrilled about the latest book available from the Faber's – a Primer Level Sightreading Book! Randall asks why a student would want to play through 96 pages of sightreading material? Because they are curious. And after they learn the piece, they are instructed to cross it out. 🙂 Also, there is a stamp on each page that says, "Don't practice this!" The counter-intuitive, seemingly forbidden approaches excite students and help them stay focused, which is the biggest challenge when working on sightreading with students.
A primer level teacher book is also in the works and will be available soon! Preview copies are available at their book, and interested teachers can place a pre-order. The presentation concluded a performance by Randall and Nancy of "Take the 'A' Train," a piece in their BigTime Jazz & Blues Level 4 book.