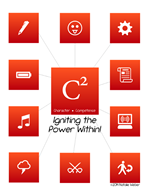 We finished up a wonderful year of piano lessons and this year's theme – C2: Igniting the Power Within! – was  ton of fun! C2 is designed to emphasize the equal importance of developing character and competence to be a successful musician. It incorporates a rating system for each assignment and the overall lesson attitude that is similar to those used in corporate settings to evaluate employees. The idea is for students to consistently look for ways to go above and beyond, taking ownership for their own development as musicians.
C2 is a practice incentive theme to integrate with any teaching method and approach. Because it emphasizes character and competence, students of all ages and levels can work at their own pace and experience great success! If you're looking for something new and exciting to launch in your studio this fall, you can save $5 on your copy of the C2 practice incentive theme from now until the end of June. Just enter the coupon code SUMMER when you checkout to receive your discount.
I'm looking forward to an exciting summer and hope to be posting semi-regularly again. We'll see how that goes!