Last Saturday, one of our local associations held a fall festival dubbed, Marshmallows and Music. I've always wanted to put on an outdoor recital, so I was thrilled to be a part of this group effort! We couldn't have asked for a more perfect day for our inaugural effort of what may become a yearly favorite!

One of our members graciously invited us to use her home/tree farm for the festive occasion. Isn't it gorgeous?!

Each of the students donned their brightly colored festival t-shirt for the occasion! Several rows of chairs provided seating for the students just in front of the deck so that we could quickly work through each of the performances. Family members and friends brought chairs and blankets to place on the lawn where they could listen and enjoy the performances.

Here's a snapshot of all of my students who participated in the event (except for one who disappeared right before we took the picture!).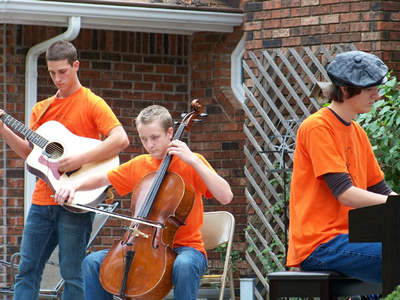 Ben, Joey, and Jed did a great job working together to prepare a captivating performance of, Secrets, by OneRepublic for the event.

Noelle, Naomi, and Amanda did a lovely job with their rendition of, Impromptu, by Gurlitt.
I am so proud of each of my students and their musical performances! And I'm so grateful for the dedication of other teachers in the area that enables us to collaborate and put on events like this for the benefit of our students, their families, and the broader community.
Are any of you involved in festivals with your students this fall?