I really love magazines. Not to say that I'm always good about reading through them, but sometimes it's nice to tackle a two-page article instead of sitting down with a whole book. Without a doubt, my two favorite industry magazines are Clavier Companion and American Music Teacher. They are always full of insight and inspiration – so valuable for growth as a music teacher!
Clavier Companion recently announced the launch of a digital edition that "contains all of the articles in the current print issue, with many enhancements, including
Audio and video files in selected articles
Live links in articles and advertisements
The ability to search the entire edition
Add bookmarks, print pages, save to your computer, and e-mail articles
Active table of contents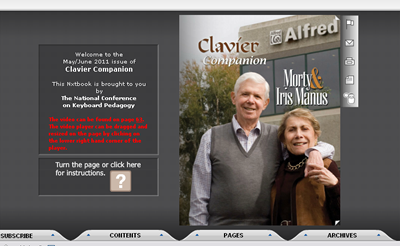 The digital edition is very easy to navigate and is handy for reference or something to read quickly while I'm sitting at the computer. As much as I love technology, though, I still can't give up my printed books and magazines. There's nothing quite like flipping through pages, underlining inspirational quotes, and jotting notes in the margins.